Mathias le Fèvre & Ciinderella Balthazar
Unfold DAKS' 125th Anniversary Check
This year DAKS turned 125 years old, and to mark this important milestone we created a special 125th anniversary check, which is deeply rooted in the brands heritage. Mathias le Fèvre and Ciinderella Balthazar paid a visit to the birthplace of DAKS' 1st flagship store Simpsons of Piccadilly to unfold the story behind the design through 'A Window To The Past'.
In 1936 we opened our first flagship store on Piccadilly, it was a period considered the 'golden age' within sartorial menswear. Simpsons of Piccadilly was created by Alexander Simpson and architect Joseph Emberton, and when opening its doors in April 1936 it was the largest menswear store in Britain. Today the store is a grade one listed building occupied by Waterstones.
When creating the anniversary check, the DAKS design team looked at the dominant architecture and drew inspiration from the sharp elements of the building. From inside and out, the large formatted windows and glass tile ceilings resemble check like structures that has made its way to the final design.
The 125 check is delivered as a powerful reinterpretation of the original house check and of course in DAKS' signature colours; Vicuna, Camel and Black. The anniversary coat's fabric has been woven in England from a variety of yarns to create a rustic surface, combining wool and linen, the result is a modern take on the classic overcoat.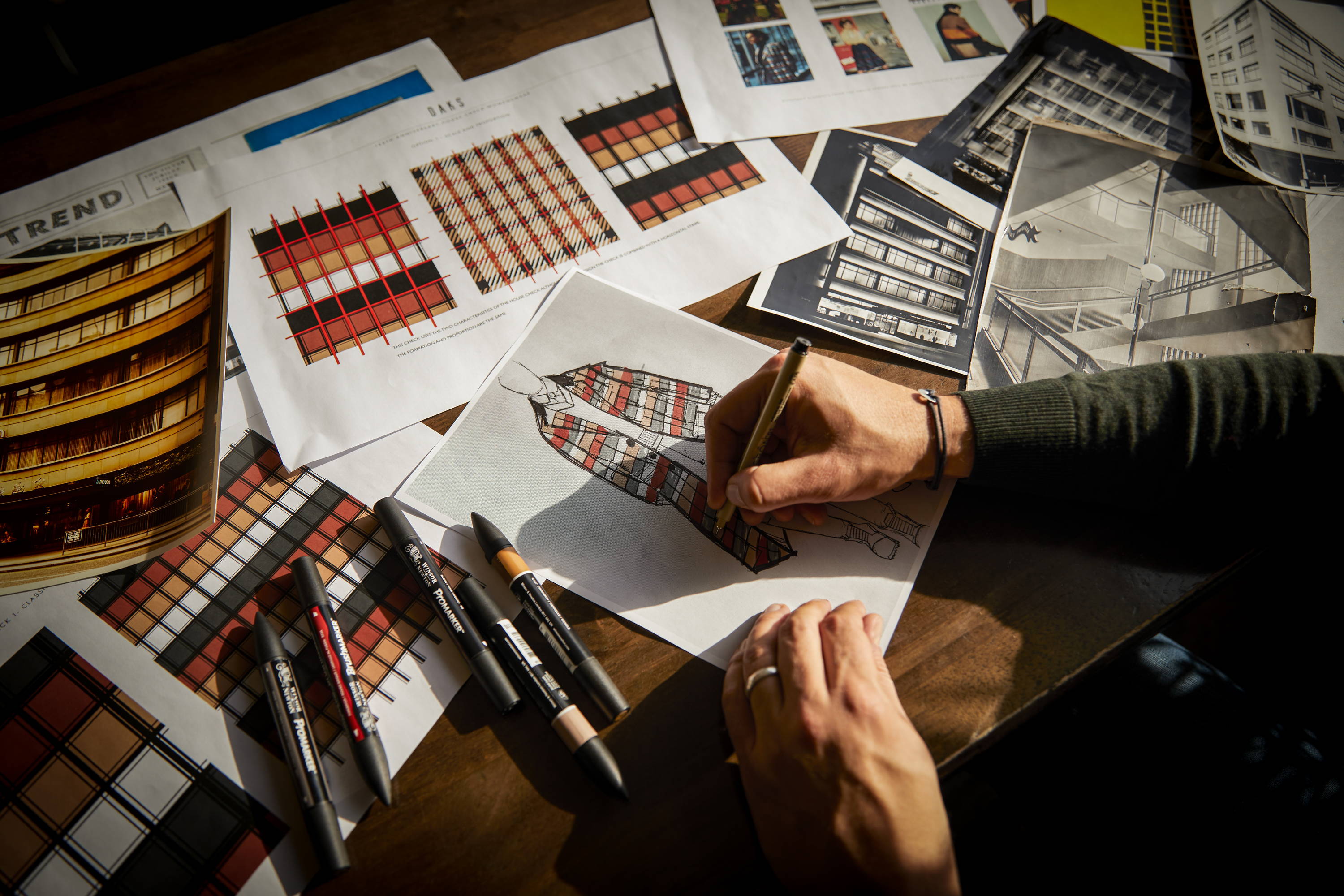 Shot against the powerful architecture of the Simpsons building, the glass tiles and books of Waterstones, the campaign has been captured by photographer Nick Tydeman and features singer-songwriter, Ciinderella Balthazar and sartorial influencer, Mathias le Fèvre in refined silhouettes of anniversary check. Highlights from the campaign include a double breasted coat, long-sleeved statement dress and plush check knitwear.
We looked to renowned British millinery brand Vivien Sheriff to create the hats for the project; a sleek black fedora and classic baker boy were selected to compliment the 125 anniversary check, and to further bring to life the vintage look and feel of the campaign.